Young users of digital platforms feel uncomfortable sharing their views
January 30, 2023
FE ONLINE REPORT | Published:  December 27, 2022 19:49:58 | Updated:  December 27, 2022 21:07:45
---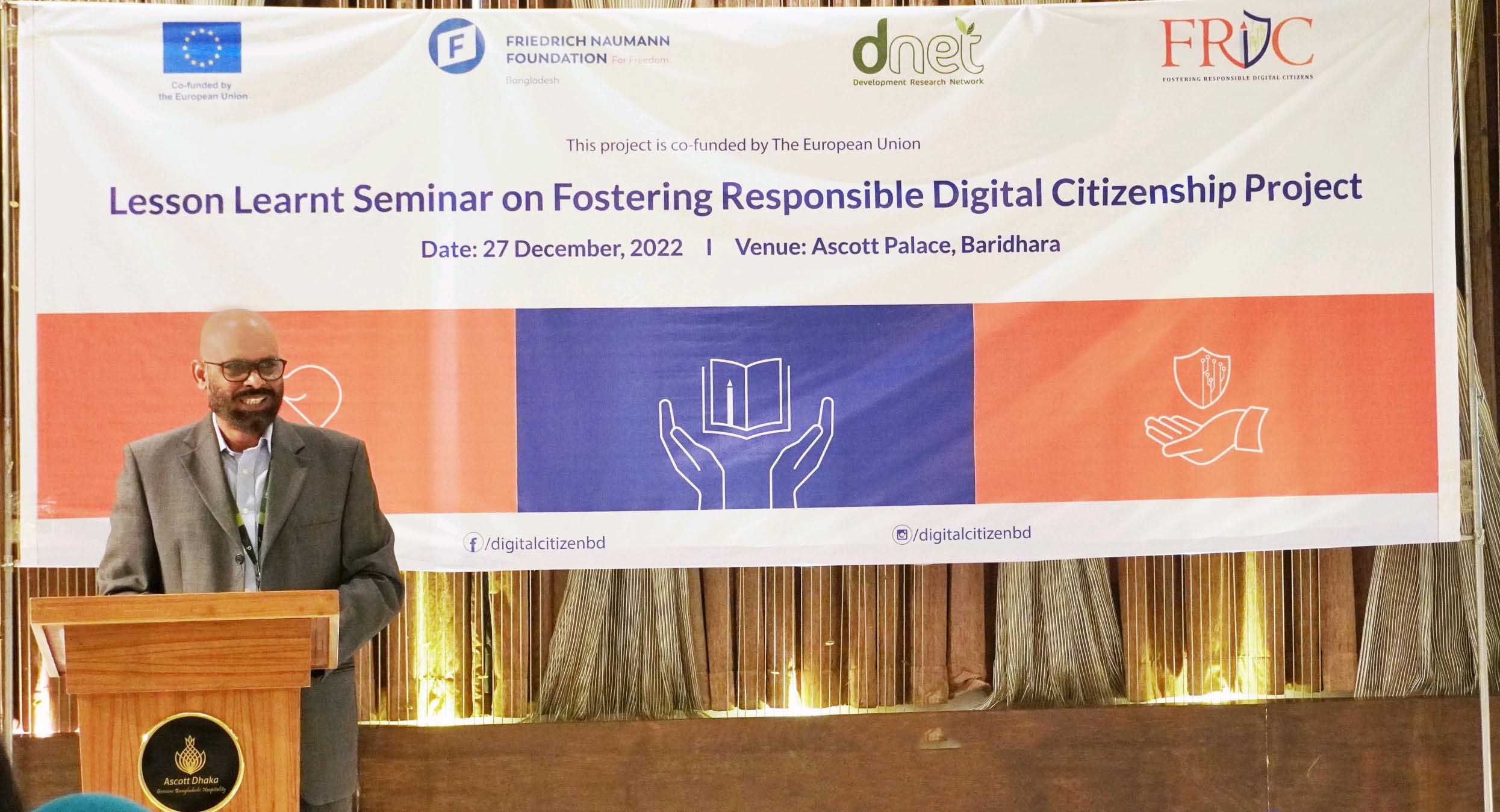 Young users on digital platforms feel uncomfortable sharing their thoughts on issues like the growing price hike of commodities out of fear of being harassed or coming under the digital security act, said a new survey.
The new findings were shared at an event on Tuesday in Dhaka. The survey also said that young users, mostly university students, want to avoid social media platforms to post their thoughts regarding political and religious issues.
Students on university campuses are aware of some recent examples of their surroundings where some of them faced harassment or legal action under the Digital Security Act for sharing concerns that may have displeased other users, according to the survey.
Under the joint funding of the European Union (EU) and the Friedrich Naumann Foundation for Freedom, DNET organized the seminar entitled "Lesson Learnt Seminar on Fostering Responsible Digital Citizenship."
Prof Rabiul Islam of the University of Rajshahi who was involved in the survey said that there are some internal and external factors which pressurise users and helped develop fear or discomfort.
"Internal factors include—family pressure. Families don't want their children to face any discomfort or harassment. Self-concern or awareness among users push them not to share these selective issues as some people who earlier shared such concerns on social media faced legal harassment," he added.
External pressure which causes discomfort in sharing thoughts includes–political pressure and torture, police or law enforcement interrogation and online bullying, he described.
"Parents, guardians, and teachers can guide youth in their care to express themselves freely and safely in the digital space," he suggested.
Rumki Farhana, senior programme officer of ARTICLE 19- Said, evidentially the DSA is being abused as a weapon of legal harassment to the journalists and communicators than playing the role of protection which is even second by the law minister.
Any act or policy shall be developed with a multi-stakeholder approach ensuring maximum exclusivity including collective insights and input rather than analyzing later on going through negative experiences, she added.
Executive director of DNET M. Shahadat Hossain said, through the FRDC project, many young people have been able to learn about exercising their rights safely in the digital world.
Nazmul Hossain, the country representative of the Friedrich Naumann Foundation for Freedom (FNF Bangladesh) and Taif Hossain, program manager of the European Union, spoke at the event among others.
Nuzmus Sakib
Staff Reporter
Financial Express
nsrafsanju@gmail.com