Workshop on awareness and protection of digital citizenship and rights held
May 3, 2023
6th December, 2022 06:55:00 PM Print news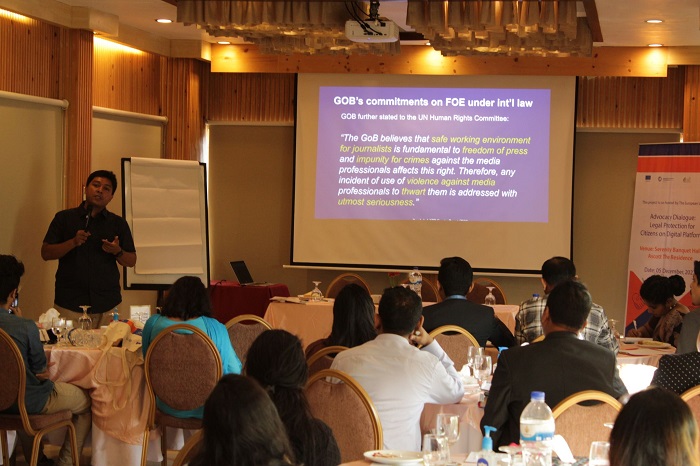 A daylong workshop titled 'Advocacy Dialogue: awareness and protection of digital citizenship and rights' was held at a hotel in the capital on Monday.
DNET and the Friedrich Naumann Foundation for Freedom jointly organised the workshop under the project 'Foster Responsible Digital Citizenship to Promote Freedom of Expression in Bangladesh', funded by the European Union (EU).
At the beginning of the workshop, Md Saimum Reza Talukder, Senior Lecturer of School of Law at BRAC University, presented the advocacy brief prepared under this project.
Later, he conducted a lively brainstorming session with all the participants, on various suggestions mentioned in this brief. Various suggestions for making Bangladesh's online world more supportive of young citizens emerged from the discussion.
The workshop was attended by eminent lawyers and media representatives who gave various suggestions to bring about positive change in society.
Faruq Faisel, Regional Director of Article 19, said that "It was important to have a specific definition of Digital Security Act in Bangladesh. The definition of the image and the elements of the image should be clarified for the better understanding of the people."
"At the same time, the terms cyber security and cybercrime need to be clearly defined. If it is not implemented properly, it will bring ignominy for Bangladesh" he added.
At the programme, lawyers said posting offensive pictures on Facebook and defamation cases are the most common. But the progress of the case is slow.
Md Saimum Reza Talukder, Senior Lecturer of School of Law at BRAC University, said "this project is working with the aim of helping the young generation of Bangladesh to become responsible digital citizens and constructively develop the spirit of expressing opinions spontaneously among them."
M Shahadat Hossain, the executive director of DNET, said "All levels of society should work to provide opportunities for young people to exercise their rights in the digital world and to acquire the skills to use the online world responsibly in the work of nation building. Only then can we ensure a sustainable future for our country in this digital era."
The workshop covers internet awareness, safety on the internet, expressing opinions with responsibility, digital law, digital crime, online identity, spreading false and fake news and many more.
All the participants in the workshop gave various effective and practical suggestions to ensure free and safe movement in the digital world with the help of this project initiative.
Ahmed Ullah
Staff Correspondent
Daily Sun
06.12.2022